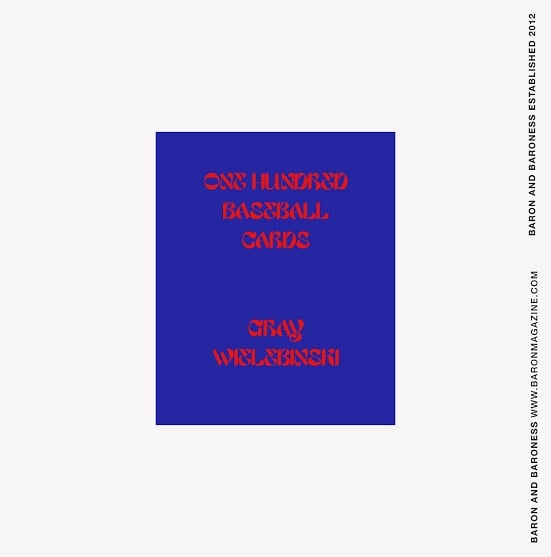 Gray Wielebinski – One Hundred Baseball Cards
Artist Gray Wielebinski's debut book 'One Hundred Baseball Cards' draws on both ancient and contemporary myths that exist in our daily lives. Collage is an essential mode of making for Wielebinski, who is drawn to its power to subvert or create context and meanings from what already exists.
An avid collector since childhood, Wielebinski's source material is baseball cards. He transforms these emblems of American sport into a new collector's item – an artwork. Keeping the scale of the original cards creates intimacy, inviting the viewer to look closely and deconstruct their relationship to this familiar object. Leather, fur, threads and nail polish punctuate the works surface. Using textiles and sewn decorative elements layered onto sportsman's bodies, the series plays with the status of craft as a traditionally feminine mode of making.
Wielebinski uses sports as an entry point to discuss gender, surveillance, desire, race, national identity, the body, celebrity, costume and power dynamics. Through multifaceted works, Wielebinski highlights how sport is both embedded in our daily lives and politically charged.
In collages and soft sculptures, Wielebinski puts together new forms and ways of embodiment, questioning what makes a body more than the sum of its parts. He dissects figures, directly challenging our obsession with 'reading' bodies.
The book also includes an introduction by writer and researcher Asa Seresin, whose work focuses on gender and sexuality, particularly theories of heterosexuality.
Artist Bio
Gray Wielebinski (b. 1991 Dallas, TX, USA) received a BA from Pomona College, USA in 2014 before completing an MFA from the Slade School of Fine Art, London, UK in 2018. He lives and works in both London and Los Angeles.
Wielebinski's expansive practice, which incorporates video, performance, collage, installation, sculpture, and more, explores the intersections of mythology, identity, gender, nationhood, and memory.
His solo exhibitions include Dark Air, curated by DATEAGLE ART at Seagar Gallery, London (2019); Shaved in Opposite Directions at B. Dewitt Gallery, London, UK (2018); and A Dog Pees On Things For More Than One Reason at Gazelli Art House, London, UK (2018). He has been included in many group exhibitions, from ltd los angeles, LA, USA to Polignano a Mare, Italy.
Wielebinski's work has been written about in Artforum, The Art Newspaper, Ocula, and Tank, and is in the collections of Los Angeles County Museum of Art, USA and San Francisco Museum of Modern Art Library & Archives, USA.
One Hundred Baseball Cards is the artist's debut book, published in 2022 by Baron.
First Edition
Soft Back 
108 pages